About Us
Our Mission
Special Kids Connect develops resources, raises awareness and provides support to children with disabilities and their families in Monterey County.
WHAT WE DO
Founded in 2007 by parents of children with developmental disabilities, Special Kids Connect understands the challenges of raising children with differing abilities. Through its resource center locations in Monterey and Salinas, Special Kids Connect supports children, families and our community by connecting resources, empowering parents, and offering recreational programs for children that promote social skill development and inclusion in community settings.
WHAT WE BELIEVE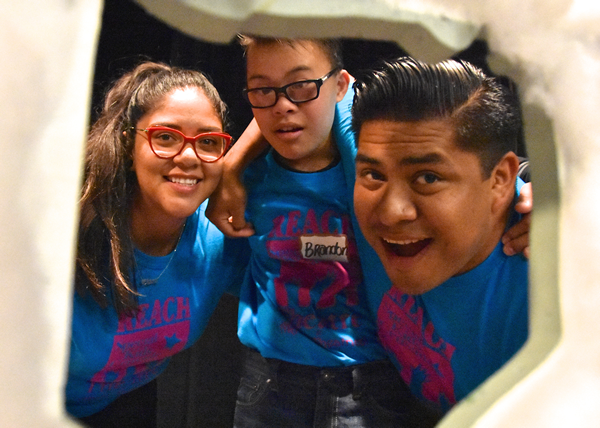 Every child is special. Every child, regardless of their abilities, has the right to access resources that give them the opportunity to develop to their full potential.

Every child has a unique set of needs. The diagnosis of a disability does not define a child or his/her personality, likes, dislikes, aptitude and ability to develop and achieve.

Parents are the best advocates for their own children. Until a child is old enough to advocate for him/herself, parents are in the best position to determine what is best for them.

Children and families should feel welcomed and included in our community. A disability should not keep someone, or that person's family, from feeling like they belong. Whether it's in a recreational program, a physician's office, an elementary school classroom or in the neighborhood grocery store, inclusion is our goal.
For a list of the programs we offer, click on the Programs tab, located in the header of this website or click here.
COME SEE US!

Feel free to email Special Kids Connect at
[email protected]
or call (831) 372-2730.
Monterey Office
STAR Toy Library
South Monterey County
Greenfield location
OPEN!
OPEN!
OPEN!

1900 Garden Road • Suite 230


Monterey, CA 93940
Map


(831) 372-2730




Monday through Friday




9 am - 4 pm

1900 Garden Road • Suite 230
Monterey, CA 93940
Map
(831) 372-2730
Monday through Friday
9 am - 4 pm
1351 Oak Avenue
Greenfield, CA 93927
Map
(831) 372-2730
Saturdays
9 am - 12 noon
Oct

4th

Caring for a child with developmental disabilities…
Oct

5th

Cuidar a un niño con discapacidades del desarrollo…
Oct

8th

Play & Learn / Juega y Aprende classes are…