Supporting "Twice Exceptional" Children (Zoom)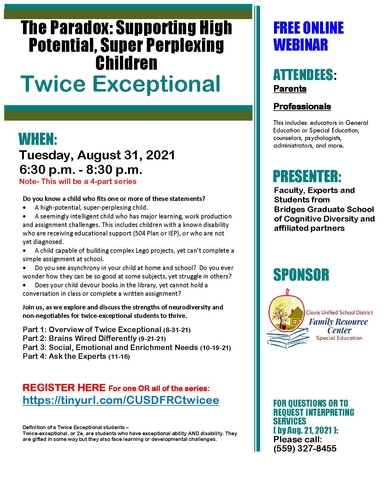 This webinar is hosted by the Clovis Unified School District Special Education Family Resource Center. Click here to view a flyer (PDF).
The Paradox: Supporting High Potential, Super Perplexing Children.
Learn about the amazing neurodiverse strengths of twice-exceptional students!

Do you know a child who fits one or more of these statements?
• A high-potential, super-perplexing child.
• A seemingly intelligent child who has major learning, work production and assignment challenges. This includes children with a known disability who are receiving educational support (504 Plan or IEP), or who are not yet diagnosed.
• A child capable of building complex Lego projects, yet can't complete a simple assignment at school.
• Do you see asynchrony in your child at home and school? Do you ever wonder how they can be so good at some subjects, yet struggle in others?
• Does your child devour books in the library, yet cannot hold a conversation in class or complete a written assignment?
Join us, as exports explore and discuss the strengths of neurodiversity and non-negotiables for twice-exceptional students to thrive.
Register online here: https://cusd.zoom.us/webinar/register/WN_q-eQMrMITryISe_qz22dCw and choose to attend one or more of the following sessions:

Part 1: Overview of Twice Exceptional (2e) - Aug. 31, 2021
Part 2: Brains Wired Differently - Sept. 21, 2021
Part 3: Social, Emotional and Enrichment Needs - Oct. 19, 2021
Part 4: Ask the Experts - Nov. 16, 2021

Definition of a Twice Exceptional students: Twice-exceptional, or 2e, are students who have exceptional ability AND disability. They are gifted in some way but they also face learning or developmental challenges.