Evaluaciones de IHSS (Zoom)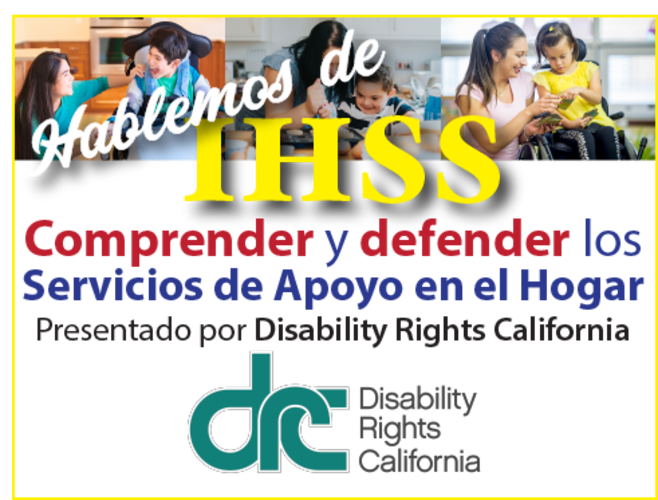 Special Kids Connect se complace en organizar Disability Rights California para una serie de talleres en 2022 para apoyar las habilidades de defensa de los padres para los servicios para los cuales la Elegibilidad del Centro Regional (SARC) no es un requisito de solicitud.
En este taller, los participantes aprenderán sobre las EVALUACIONES para los Servicios de apoyo en el hogar (IHSS). Las evaluaciones son clave porque se utilizan para determinar la elegibilidad de los solicitantes para las horas de IHSS. Disability Rights CA mostrará a los asistentes cómo hacer una autoevaluación, antes de la visita de un trabajador social, para que sepa qué señalarle al trabajador social cuando llegue a su hogar. Para registrarse en este y otros talleres de IHSS de esta serie, visite https://us02web.zoom.us/meeting/register/tZ0sd-ypqjksG9ORz3IEXhwktxCuXPhgG_qo.
This workshop series is also being offered in English on different dates. Click here to learn more about the English workshops, and to register.
Esta serie de talleres también se ofrece en inglés en diferentes fechas. Haga clic aquí para obtener más información y registrarse.