Chocolate Walk
Introducing a fun way for chocolate lovers to stroll through Downtown Salinas for a great cause this February.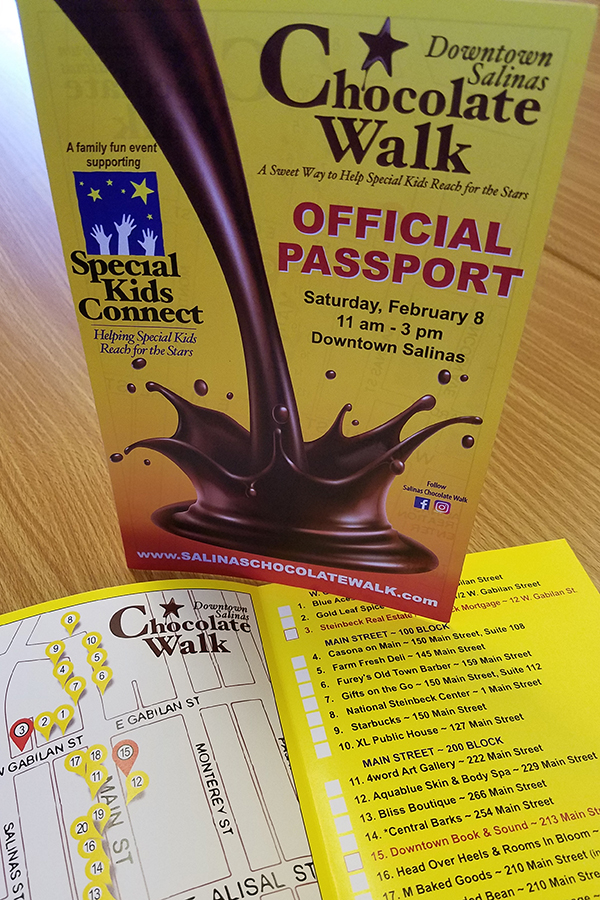 PASSPORTS HAVE SOLD OUT!
For those who have purchased passports, they can be picked up at ANY one of the following 3 locations Saturday morning, starting at 11 am:
Check out our list of participating locations.
What is a Chocolate Walk?
Chocolate Walks are sweetly-inspired annual family-friendly events, held all across the country, in oldtown-style, historic shopping districts. They are fun, engaging events designed to build a sense of community among merchants and families -- all for a good cause!
The Downtown Salinas Chocolate Walk will take place on Saturday, February 8 - the weekend before Valentine's Day. The event will support Special Kids Connect, a nonprofit organization who, for the past 12 years, has been developing resources, raising awareness, and providing support to the over 10,000 children who have a special need in Monterey County. Special Kids Connect has a special connection to Downtown Salinas: One of its most popular programs is REACH Theatre, an ability-inclusive 6-week program which take place at ARIEL Theatrical two times per year.
How does a Chocolate Walk work?
Chocolate Walk participants purchase a passport with a map of participating Chocolate Walk locations. At each stop, passport-holders receive sweet treats and get their passports stamped. Passport holders are eligible for more prizes by visiting a qualifying minimum number of locations, sharing photos on social media, tagging @salinaschocolatewalk, or by simply voting for their favorite stop along the walk - the winner of which will be recognized after the event.
How can a Downtown Salinas Merchant participate?
WE ARE FULL! Participation has been limited to 25 sponsoring businesses. If you missed being able to participate in 2020, we hope to see you in 2021!
Drum roll, please... Here are our 25 participating businesses!

*
Passport Pick-Up and Drop-Off locations are noted in RED.
4word Art Gallery ~ 222 Main Street
Aquablue Skin & Body Spa ~ 229 Main Street
Bliss Boutique ~ 266 Main Street
Blue Aces Bake Shoppe ~ 8 West Gabilan Street
Casona on Main ~ 150 Main Street, Suite 108
*Central Barks Salon ~ 254 Main Street
Damsel in Defense ~ 336 Main Street (inside Sierra Pacific Mortgage)
Downtown Book & Sound ~ 213 Main Street - OFFICIAL PASSPORT PICK-UP / DROP-OFF LOCATION
Downtown Gift Shops ~ 345 Main Street - OFFICIAL PASSPORT PICK-UP / DROP-OFF LOCATION
Farm Fresh Deli ~ 145 Main Street
Furey's Old Town Barber ~ 159 Main Street
Gifts on the Go ~ 150 Main Street, Suite 112
Gold Leaf Spice & Teas, Inc. ~ 8 1/2 West Gabilan Street
Green's Camera World ~ 350 Main Street
Head Over Heels & Rooms in Bloom ~ 248 Main Street
M Baked Goods ~ 210 Main Street (inside The Beerded Bean)
National Steinbeck Center ~ 1 Main Street
Roaring Mice Studio ~ 374 Main Street
Salinas Floral & Gifts ~ 319 Main Street, Suite 8
Sierra Pacific Mortgage ~ 336 Main Street
Starbucks ~ 150 Main Street
Steinbeck Real Estate & Steinbeck Mortgage ~ 12 West Gabilan Street - OFFICIAL PASSPORT PICK-UP / DROP-OFF LOCATION
The Beerded Bean ~ 210 Main Street
The WellNest Holistic Massage ~ 240 Main Street
Tu Estilo Hair Boutique​​​​ ~ 242 Main Street
XL Public House ~ 127 Main Street
* Central Barks is a BONUS stop for dog lovers! They are an official stop, but they are not handing out chocolate. As we all know, chocolate is not good for dogs, so this is a BONUS stop for dog lovers who want to pick up a yummy treat for their pooch!
Dec

1st

The Self Determination Program is available to…
Dec

4th

Fun for the WHOLE Family! Filled Christmas Stockings,…
Dec

8th

El Programa de Autodeterminación está…