REACH LEGO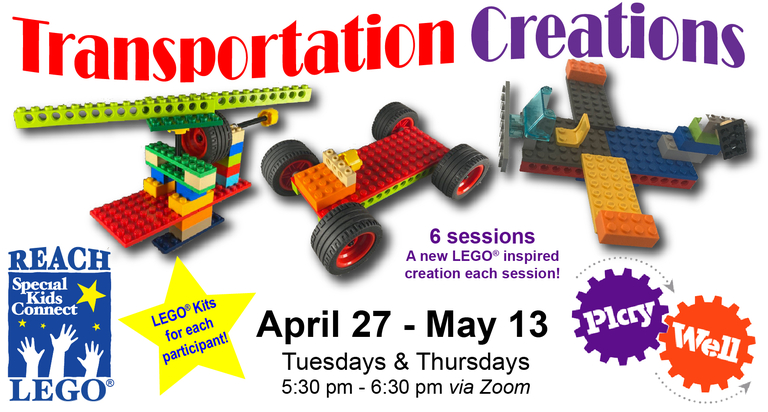 REACH LEGO
Event Date:
Apr 27 - May 13, 2021 at 5:30 PM - 6:30 PM
Location:

Register here!
---
Special Kids Connect is proud to be partnering with Play-Well TEKnologies for this exciting new REACH program. For over 20 years, Play-Well TEKnologies has been using LEGO®s to support problem-solving skills, provide opportunities for creative expression, and develop confidence in children through its camps, classes and online programs.
This spring, Play-Well TEKnologies is REACHing new heights by offering a class for children with special needs. This class is developed for youth ages 7 and older. Younger participants with adult or older sibling support are welcomed!
6 sessions on Tuesdays and Thursdays, April 27, 29 and May 4, 6, 11, and 13 at 5:30 pm.
A new LEGO®-inspired transportation creation each session!
Classes will be held over Zoom Videoconferencing.
Registration fee includes all materials needed! Participants will receive a LEGO® kit with assorted LEGO® building pieces and a laminated mat that helps participants identify pieces.
Families are encouraged to pick up supplies at Special Kids Connect's Monterey Office prior to the start of the program. If shipping is desired, this option can be selected at check-out for an additional fee. (Note: This is an option up until April 22.)
LEGO® is a trademark of the LEGO Group. This program is not authorized, sponsored or endorsed by the LEGO Group.